h

word

s

d

c

l

b
---
Équateur magnétique
triptyque

French translation of Magnetic Equator by Stéphane Martelly, April 2023


Entre l'Amérique du Sud et celle du Nord, les poèmes de ce livre dérivent. Ils cherchent une ancestralité à Georgetown, au Guyana, dans la forêt amazonienne et dans l'Atlantique. Ils retournent aux années 1980, en banlieue de Calgary et dans les quartiers montréalais emmurés dans la neige post-référendaire. Comme la traversée des vaisseaux noirs jusqu'à la terre ferme, ces poèmes se fraient un chemin dans ce monde et peinent à expliquer l'état d'une personne scindée en deux hémisphères. Présents dans un ici tout en portant les battements de l'ailleurs, les poèmes d'Équateur magnétique cartographient les distances parcourues.


---
Petits marronnages
Les éditions du Boréal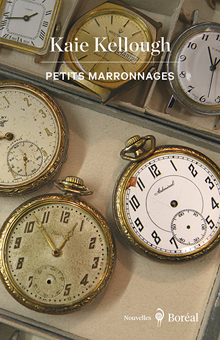 French translation of Dominoes at the Crossroads by Madeleine Stratford, February 2021

Finalist, Governor General's Award, French Translation 2021


Dans Petits marronnages, Kaie Kellough s'engouffre dans les interstices de l'histoire officielle pour tirer de l'oubli les figures fictives ou bien réelles des diasporas caribéennes et africaines. Musiciennes et autostoppeurs, poètes et banlieusards sans histoire, agents secrets et historiennes, domestiques et révolutionnaires s'y croisent et s'y recroisent dans une improvisation débridée et foisonnante placée sous le signe du déracinement.


---
Dominoes at the Crossroads
Véhicule Press
Short stories, ed. Dimitri Nasrallah, published February 2020

Longlist, Scotiabank Giller Prize 2020

Longlist, CBC Canada Reads 2021

Winner, Quebec Writers Federation Hugh MacLennan Prize for Fiction 2020

Finalist, Grand Prix du Livre de Montréal 2020

Finalist, Danuta Gleed Award for Short Fiction, 2021

Finalist, ReLit Award for Short Fiction 2021

Cover story, Quill and Quire, December 2020

Globe and Mail, Globe 100 Best Books of 2020

CBC, Best Books of 2020


Dominoes at the Crossroads plays double-dutch with time and latitude as its characters skip between their Caribbean roots and their Canadian present. Through the eyes of jazz musicians, hitchhikers, quiet suburbanites, student radicals, secret agents, historians, and their fugitive ancestors, Kellough guides us from the cobblestones of Montreal's Old Port to the foliage of a South American rainforest, from a basement in wartime Paris to an underground antique shop in Montréal during the October Crisis, allowing the force of imagination to tip the balance of time like a line of dominoes.


---
Magnetic Equator
Penguin Canada / McClelland and Stewart
Poetry, ed. Dionne Brand 2019

Winner, Griffin Poetry Prize 2020

Finalist, Quebec Writers Federation A.M. Klein Prize for Poetry 2019

CBC, Best Books of 2019

Finalist, Carte Blanche 3Macs Award 2018


The poems in MEQ are inhabited by migration and distance. They are ghosts that issue from suburban oblivion.They drift between North and South America looking for their ancestry in the cities and rainforests of Guyana, the Atlantic Ocean, and the prairies, foothills, and badlands of Western Canada.


---
Accordéon
ARP Books
Novel. Jacket and text by LOKI Design, published 2016

Finalist, Amazon / Walrus Foundation First Novel Award 2017

Cover story, Montréal Reivew of Books, Spring 2017


The Ministry of Culture seeks to shape and direct every detail of Québec society, and institutes a vast surveillance program. It plants agents in offices, cafés, and daycares. It abducts citizens, interrogates them, and meticulously catalogues their testimony. When Accordéon's itinerant narrator is detained, their testimony discloses a counter-conspiracy in which a mythic flying canoe will ascend to thwart the Ministry and radically transform Québec society.


---
ARP Books
Poetry, published 2010

Shortlist, Manitoba Book Awards, Manuela Dias Design Prize, 2010

Maple Leaf Rag is a dynamic, jazz-and-noise-infused riff on Canadian culture. Its concrete and written soundscape explores belonging, dislocation and relocation, and national identity from a Black Canadian perspective. This collection of poems syncopates the page and scores speech.


---
Navette
Shape & Nature Press
Short story and conceptual walk, published 2015, Greenfield, Mass.


Navette contains a conceptual walk and a work of short fiction. The walk visits familiar Montréal landmarks that double as passages along a migrant's journey. The story is one of revolution and flight in which a nameless youth, the child of Haitian immigrants, comes of age during the 2012 student strike. The Duvalier régime and the space shuttle Challenger haunt the family's memory, while a future blurred by social unrest, language politics, vintage Congolese recordings, and interstellar space engulfs their city.


---